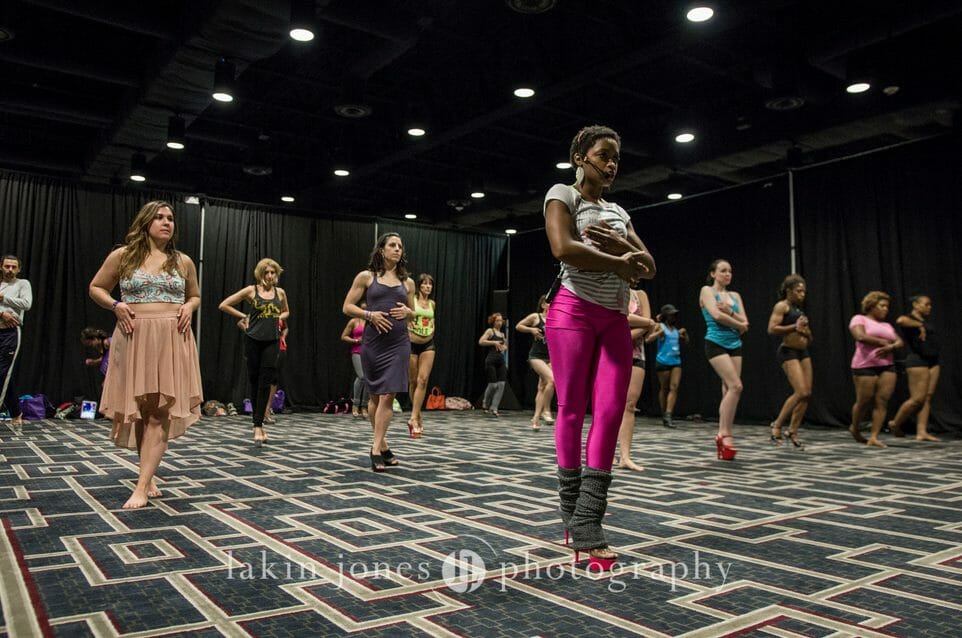 An Interview with Crystal Belcher
PoleCon workshop leader and performer, pole competitor and half of our fabulous MC duo—we sat down to talk with the extraordinary Crystal Belcher.
---
Mica (M): How did your pole journey start? How old were you? How many times a week do you exercise?
Crystal (C): I had returned to Houston after spending 8 years studying and working in DC. I was working at CBS radio and was invited to a class by a coworker who did PR for a local studio. I was 26 years old. It began bi-weekly then changed to weekly attendance after a month.  
M: When did she start taking pole more seriously?
C: The moment I got asked to be an instructor. I was poling for about 6 months and was asked to help with the large demand of prospective clients. Much of what I would already do when she needed to help more progressive students in class. It was my pleasure to help because I come from a coaching background and missed teaching my cheerleaders in DC. 
M: When was your first performance?
C: I performed for the first time in February of 2010 for a studio open house and my first competition in September of 2010 with Miss Texas Pole Star.
M: What is the most common mistake among pole artists?
C: Because I consider all my clients and teammates pole artists, I'll answer this for the general community rather than well known idols and pole-brities. I feel the most common mistake is that we forget to take our time. It's a marathon to advance and properly progress. No need to race to get ALL the things. There's so much beauty in the beginning; why taint the purity of the journey? Let us not forget that the mastery of the basics are essential to the development of more extreme movement. 
M: What is your current pole nemesis?
C: Training! Lol, I am a master procrastinator and overall busy body. Many moves I can do were with ease, but every so often I have to buckle down to build endurance, strength and flexibility. Because the 11th hour is my favorite time of the day, my compositions aren't as successful, fluid or tight as I would like them to be. So this year will be the year to work smarter and with consistency.
M: What is your favorite pole move?
C: Any move that develops and transforms into beautiful shapes. These are moves that breathe in and out of length and create abstract moments. They make you move to the edge of your chair and get lost in the artist's sheer artistry and athleticism. 
M: Where/who do you get your inspiration from?
C: Life. People in motion, conversation and stillness drive me to create. Whether they groove to their favorite music track, body shifts when they speak passionately about their views or even when they just sit in a daze at the back corner of a room, I am compelled to want to show that story in studio or stage. It makes my work more meaningful and relatable. 
M: What training regimens/Diets do you have?
C: In regards to diet, I don't prohibit my body from consuming what it craves, but I try to make more sound decisions in regards to excessive, unhealthy choices. I try to cut alcohol and lessen my bread consumption at least two weeks out from a competition. Other than that I eat what's necessary to fuel my activity. 
I teach a minimum of 10 hours a week. I try my best to pull inspiration or build my routines for show in my class. It's an efficient way to work and complimentary to my clients, because they inspire new transitions and perspectives. Other than that I may work out an additional four hours a week to work on new material.
M: What competition are you currently training for?
C: No competitions at the moment, but I am booked to perform in Europe at Pole Sport Organization's competition and across the states. I may consider another competition but it may be overseas again. 
M: Share with us some info about Melee on the Bayou?
C: Melee on the Bayou is Houston's premier and longest running pole dance competition, recently celebrating it's 5th year in production. We're a grassroots event with up to 40 performances on pole, floor, chair and in groups. We invite world renowned pole artists to judge and perform, as well as invite well known professionals in entertainment to balance our judging panel.
The purpose of "Melee on the Bayou PDC" is not solely to bring light to what we do in the privacies of our pole community. This is a platform to applaud and support our students, instructors and studios that want to show the city the power, progression and passion that pole dance fitness provides for them. This is also a great arena to celebrate not only small, private, local businesses, but institutions set on creatively attracting and keeping our citizens health conscious!

Latest posts by Mica Saunders
(see all)