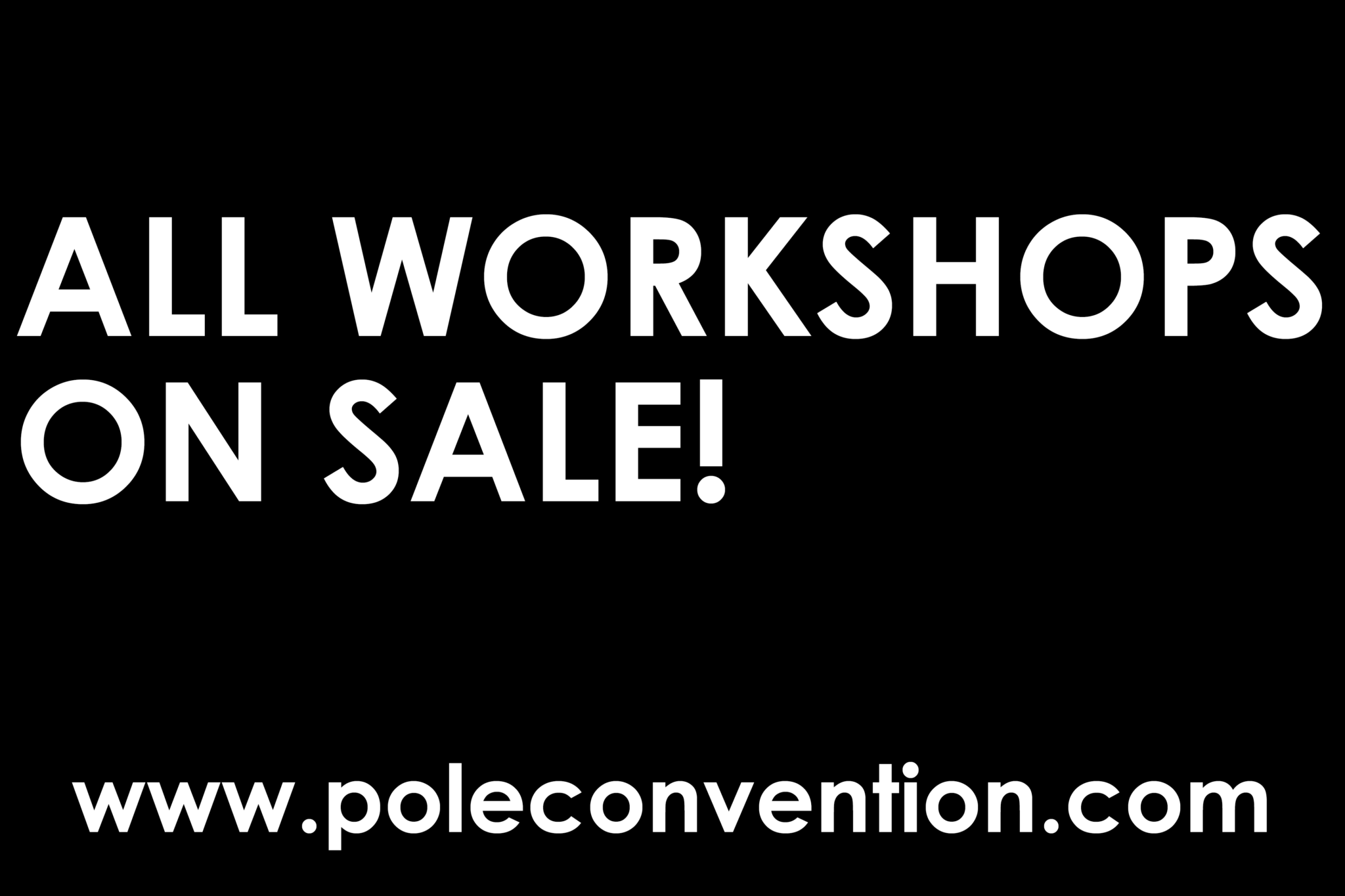 Workshops this Year at PoleCon 2021
The PoleCon 2021 workshop schedule is live!
You can download our Cheat Sheet here to see all the workshops aligned with the free (included with your Weekend or Day pass) workshops/seminars and showcases here. Sign up for workshops here in Wellness Living.
PLEASE NOTE: sometimes things change and workshops may be updated or changed. IF you have signed up for a workshop you will receive an email from the Wellness Living System. Cheat Sheet will also be updated. Whatever is in Wellness Living System is the most current at all times.
Diversity in Workshops
This year we have a lot of new faces teaching paid workshops! HALF of our paid workshop leaders are BRAND NEW to teaching at PoleCon! Welcome!
If you're missing some of your favorite pole stars, yes, they were all asked back to teach and for various reasons some are unable to attend this year's event. While we will miss them, this does allow a lot of new folks to teach you awesome stuff!
PoleCon has always been a diverse and inclusive event and this year we are even more diverse (compared to previous events) for paid workshop teachers in terms of persons of color and queer persons.
We do not have any teachers permanently based outside of the US teaching this year due to continued challenges with COVID-related travel restrictions and costs to travel. We hope to welcome our international teachers back in 2022!
Also, to reflect the challenges many of us faced with lockdowns, financial concerns, and other restrictions limiting our ability to train, attend classes/workshops, perform, or otherwise dance with poles, most of the workshops are geared towards beginners and/or are suitable with options for all levels. There are some intermediate and advanced workshops as well as workshops that focus on getting a particular move and there are a few workshops that focus on improving our mindsets. We also have brought back our popular physical therapy-based workshops to help you stay healthy and mobile!
Yes, we have also brought back several pre-conference certifications including XPERT, Rad Roller Myofascial Release, Twerk and more to get you certified to teach or to increase your knowledge as an existing teacher.
How do people get to teach a paid workshop?
Primarily people apply to teach using our easy Google Form every year — there are so many great teachers out there it's impossible for us to know all of them so we need YOU to tell us that you're awesome. Then, we ask previous workshop leaders (who did not have poor reviews in our previous year's survey) to teach who may not have filled out the form. Finally, if there is still space available after the first two steps are complete, we ask folks directrly that offer specific content, focus on specific audiences that are not being served by current workshops, or otherwise look to fill "holes" in the workshop schedule to provide a diverse and wide-ranging set of workshops that reflect the diversity within PoleCon attendees in terms of types of humans, styles offered, and levels. This is a work in progress. <3
Performing at PoleCon
Thank you to everyone who applied to perform! Everyone who applied was accepted into one showcase. If you didn't receive an email, please email colleen@poleconvention.com
Yes, there are still a few spots left to perform in our Troupes and Groups Showcase.
Interested in performing? Email colleen@poleconvention.com to sign up your group!
Other Reminders
Booths are on sale! Book your booth here.
And finally, book your room at the host hotel centrally located on Canal Street just a few blocks from the world-famous Bourbon Street! It's so nice to run up to your room and take a nap between workshops!
See y'all soon!!!