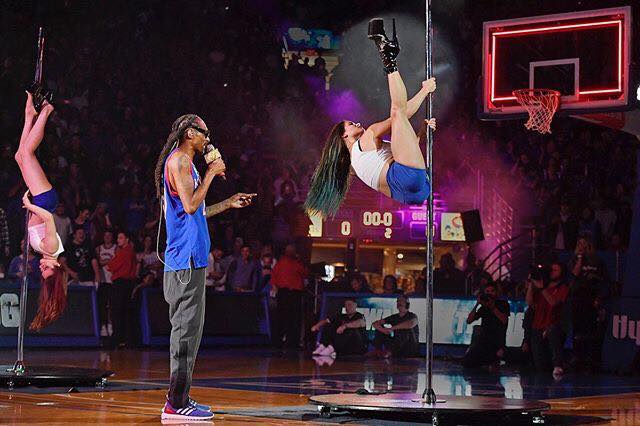 Pole Dancing In The Dogg House
Recently, the University of Kansas issued an apology to anyone who may have been offended by Snoop Dogg's performance Oct. 4 at "Late Night in the Phog" to close out the celebration for its college preseason.
The athletic director for the Jayhawks, Jeff Long, released the following apology:
"We apologize to anyone who was offended by the Snoop Dogg performance at Late Night. We made it clear to the entertainers' managers that we expected a clean version of the show and took additional steps to communicate to our fans, including moving the artist to the final act of the evening, to ensure that no basketball activities would be missed if anyone did not want to stay for his show."
"I take full responsibility for not thoroughly vetting all the details of the performance and offer my personal apology to those who were offended. We strive to create a family atmosphere at Kansas and fell short of that this evening."
Additionally, Kansas basketball coach Bill Self made this statement when asked for comment.
"I don't guess you have visuals on radio. I learned that tonight," Self said. "But no, that's not the direction that anybody at our school would want that to go at all, regardless of any entertainment that it provided many, it was still not the right way to provide the entertainment."
Millions of people have seen clips of them on ESPN, CBS SPORTS, TMZ or just about every media outlet you can think of, but nobody has heard the pole dancers' take on the UK controversy over their dancing.
Let's meet Jordan Mazur, Meownesota, Kelsettaa and Bailey Elizabeth.
Jordan Mazur has over 10 years of pole dancing experience. She earned a B.S. in Dance from Indiana University while performing at a bar on Tuesday nights. Additionally, she has danced professionally with Gregory Hancock Dance Theatre and Missouri Contemporary Ballet.
Meownesota started pole dancing seven years ago when she dropped in for a free "Bootcamp" style class unaware it was in the pole room. She has previously joined the lines in high school focusing mainly on Jazz and high kick.
Kelsettaa has been pole dancing for six years (taking a yearlong maternity break <3 ) including three years teaching pole dance to her students. A lifelong dancer, she additionally has a decade's worth of breakdance and acro instruction experience.
Bailey Elizabeth started pole dancing four years ago when her high school dance instructor bought a pole for her studio (she was a super dope, punk dance teacher). She is a proud stripper who has pole danced with the band El Monstero and performed at Viva La Pole Show in Chicago.
Have you ever performed at a concert or sporting event before?
Jordan- Yes, in 2011 I performed pole shows on a brief tour with the metal band Pragmatic and in 2018-2019 I performed in live band/pole shows at Viva La Pole Show with bands Misery Machine, Now I'm Nothing and Vicarious. I've never performed at a sporting event before, but I have performed at parades and festivals in the past.
How did it feel to perform in front of such a massive crowd? How many people were at the concert?
Meownesota-  16,300 people are said to have attended. It felt great! The students were friendly, and staff were helpful. Parents and children held casual conversation as I towered in my platform shoes. It was all smiles in person.
What did the fans think of the show? What was your most memorable moment from being on stage with Snoop?
Jordan- The fans absolutely loved it. They were so excited to see us bring the poles on, go up to them and perform. We walked past the bleachers each time we entered and exited, and they all leaned over the rails to cheer us on or yell compliments on our performance as we walked off. The most memorable moment on stage was an awesome interaction with the female basketball players. They were all standing on the court for the show, and I was performing on the pole nearest them. After doing a drop their faces lit up, and they got SO excited to watch all of the pole tricks. You could tell they felt such a level of respect and excitement that they got to be so close to it, which was the most rewarding feeling.
You're in an elite group of pole dancers who have performed with Snoop Dogg including some BIG names in the industry like Ashley Fox. Nicole The Pole, Colleen Jolly, and Suzy Giannakopoulos. What was the casting process like? Did you have to audition?
Kelsettaa-   That might be the craziest part of the whole thing. I have looked up to those dancers all throughout my career. They have inspired me to do the difficult things like train both sides. 😀 Virgil (Snoop's pole dance manager) was wonderful to work with during this process. I will always be grateful to him for these opportunities.
What was your initial reaction and your feelings when you found out about the apology issued by the University of Kansas?
Bailey- Everyone we encountered was super nice, so I was a little taken aback about the apology. It's my opinion that they prepared to "apologize" and put the blame on Snoop's team before it even happened. We agreed on the outfit that KU wanted us to wear and that we would keep the performance focusing on the "aerial side" of pole dancing. The KU's crew helped us load and build the poles hours before the event, so they definitely knew what was happening.
Since all of this controversy, your pole dancing has been featured in: ESPN, USA TODAY, THE WASHINGTON POST, just about every media outlet in Kansas and even THE DAILY SHOW. How does it feel to Go Viral with Snoop Dogg?
Meownesota- Going viral isn't a focal point for me, but seeing POLE go viral IS. It's not about me, it's about us. Us artists, us sex workers, us dancers, us human beings breaking the stigma of what has changed so many lives. Pole is an outlet, and whether good or bad publicity- Pole is now a bigger topic because of this event, and that feels pretty neat.
Is there anyone in the world of pole dance that you admire? Are there any new people in the pole community that you are really excited about?
Bailey- Anyone that is just really innovative with movement. Missouri pole stars like Jordan Mazur, Leah Franklin, Michelle Mynx, and Kirstie Ellerbe are always inspirations to me. I'm obsessed with how playful Brian Wolf and Laura Marie are with movement, and omg why is Dalton Rhodes not famous yet?
What do you have to say to the people who say, "I could never pole dance?
Kelsettaa- This is a sport for everyBODY. You can take pole dance in every style and every level. The only thing you have to do, is show up. Show up with an open mind and go for it. You can do anything you put your heart into.
I hope that anyone who is considering starting pole talks to someone in the sport. (I am always open to this conversation if you are considering getting started!).
We reached out to some other people who know how it feels to pole dance with Snoop Dogg for their perspective.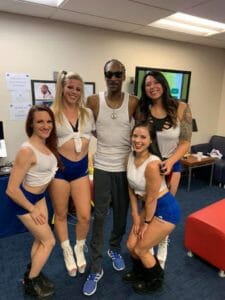 Nicole The Pole Williams has appeared in music videos for Cardi B and Rihanna. She has performed at six Snoop Dogg shows in addition to live performances with Bruno Mars and Ludacris.
Colleen Jolly is the CEO of Pole Con International and recently performed on stage with Snoop for the very first time.
Ashley Fox is a world class pole athlete who was recently featured pole dancing in an advertisement for Calvin Klein.
Suzy Giannakopoulos Is the erotic pole ninja who finished 2nd place in the PRO division of the Pole Championship Series at the Arnold Sports Festival
What was your reaction and your feelings when you found out about the apology issued by University of Kansas for pole dancers, swearing, and money guns?
Nicole-I basically rolled my eyes because people kept reposting [the apology] as if it was a big deal. Rather, it was just one post. It probably was the university responding to a few people. It wasn't the reaction of everyone who attended the concert.
Colleen- Honestly, I just rolled my eyes. It unfortunately seems like a predictable reaction to police women's bodies and practice censorship that is all too common right now.
Ashley Fox-My reaction was that the pole dancers are awesome! Snoop Dogg always swears and money guns aren't that serious. It seemed to be an exciting experience for the college students, and I didn't see any pole dancers doing anything inappropriate during the performance.
Suzy- Just another group of ridiculous people being offended by something they shouldn't be. Like common it's Snoop, the one song says "I wanna fuck you" and it's the epic pole dancers you have a problem with …like you booked him, did you think he was gonna do Taylor Swift covers?……. just dumb
Any advice for the pole dancers who performed at KU?
Nicole- I have no advice for the pole dancers who performed at KU, because I'm sure they did a great job, and people need to stop making a big deal out of nothing.
Colleen- Haters gonna hate! Y'all rocked it out there and I loved your matching outfits!
Ashley Fox-You all did great! Keep it up! And never stop doing what you love!
Suzy- Just be you ladies, you have a strong community that supports and adores you. As well you all looked incredible from the photos and videos I've seen. Xo
Thousands of enthusiastic fans leapt to their feet at the appearance on the legendary rapper and his pole dancing "Snooperstars". Watching clips from the performance, the crowds are singing along with Snoop, swears and all (like folks don't curse during sporting events).
Pole dancing is moving to a more culturally accepted place, and that's going to come with a few growing pain moments like this. Would KU apologize if JLO was twirling around a pole at the Allen Fieldhouse? She's performing at the Superbowl one week before the academy awards. Currently, everyone's talking Oscar buzz for her film that depicts pole dancing. What will sports fans say if JLO pulls her poles out at halftime? These powerful performers went out on the court and lived their best lives. Executing those moves is quite difficult, and they did an amazing job dancing in front of 16,300 people. They deserve admiration and respect for there performance, just like any other entertainer.
When asked about the midnight madness, the legendary rap icon was characteristically chill in his response.
"When you pay for Snoop Dogg, you gonna get Snoop Dogg,"
P.S. Can we give a little love to Nasty Dogg?